第96回東京インターナショナル・ギフト・ショー秋の生活×デザイン2023
南京鹿特斯国際貿易有限公司
ブース番号:东3-T27-20
期間:2023年9月6日~8日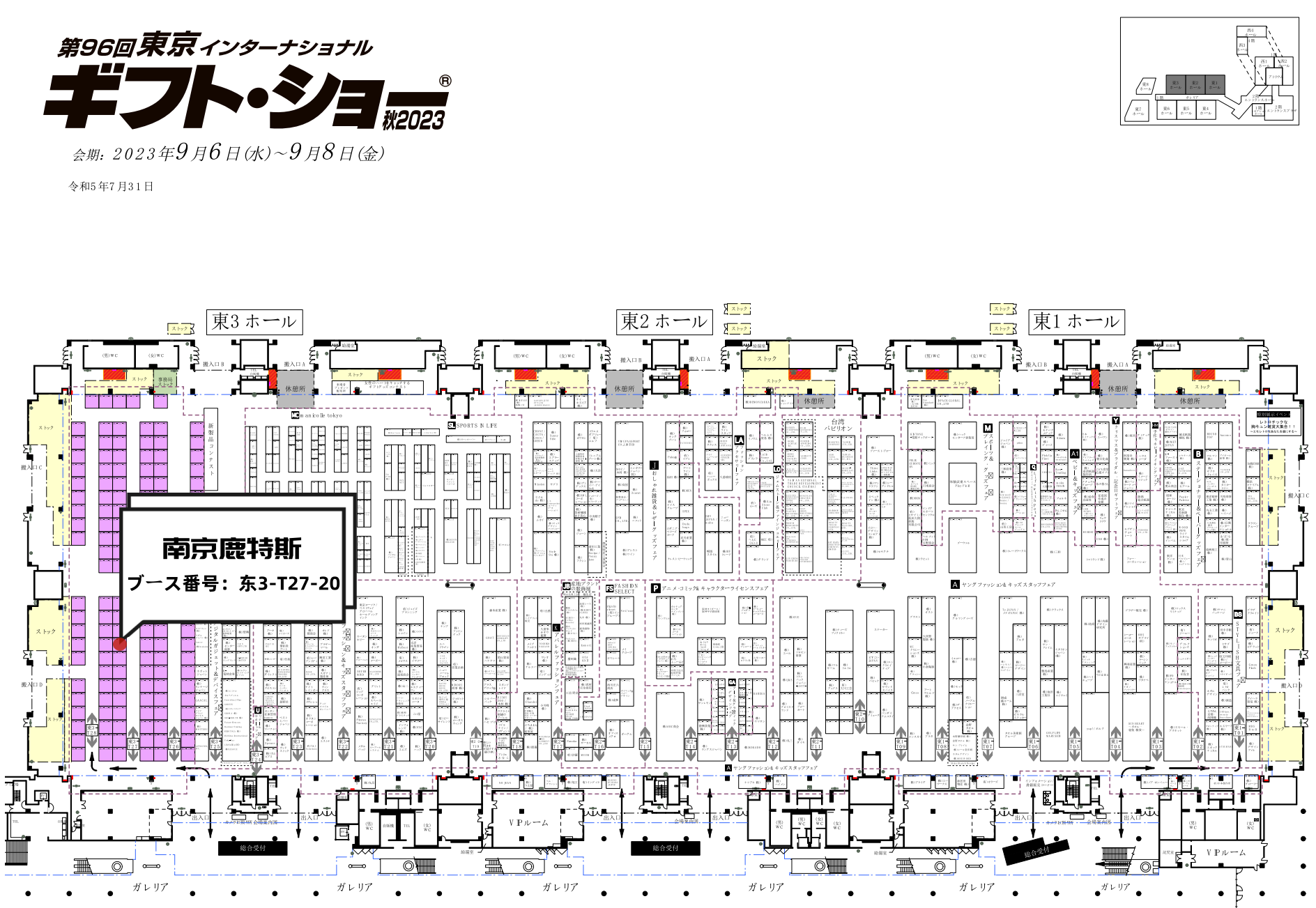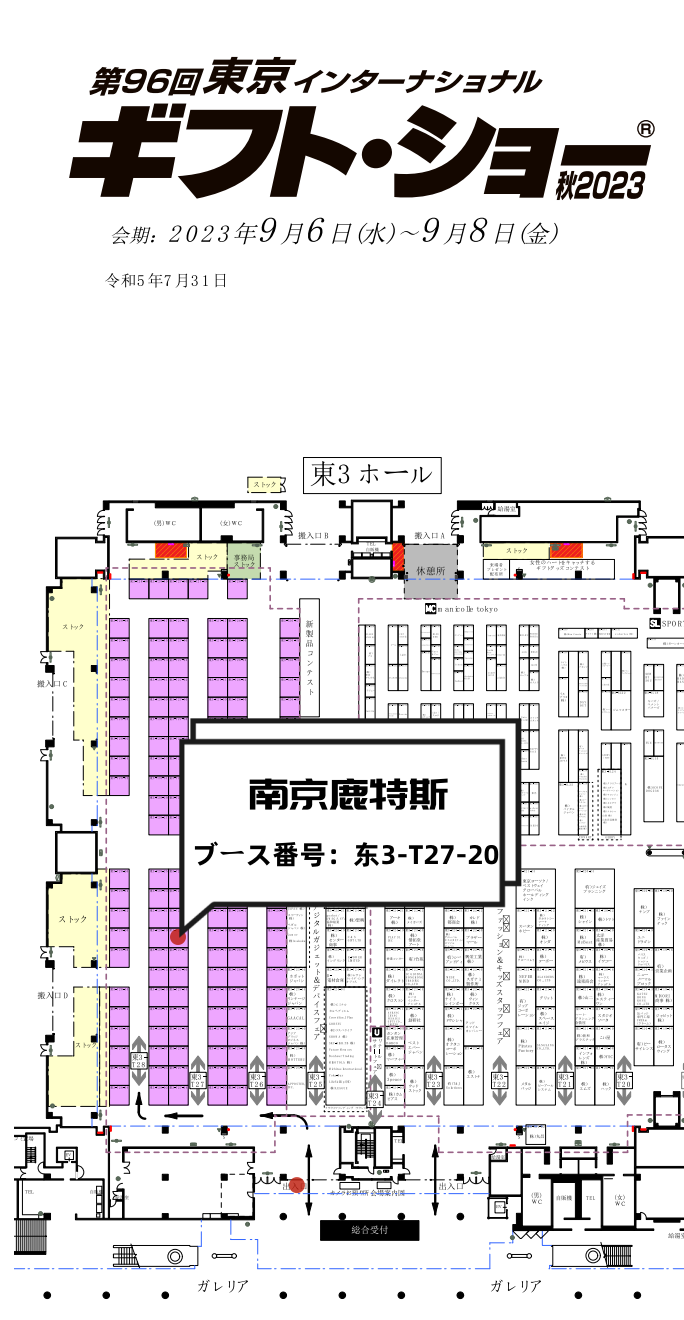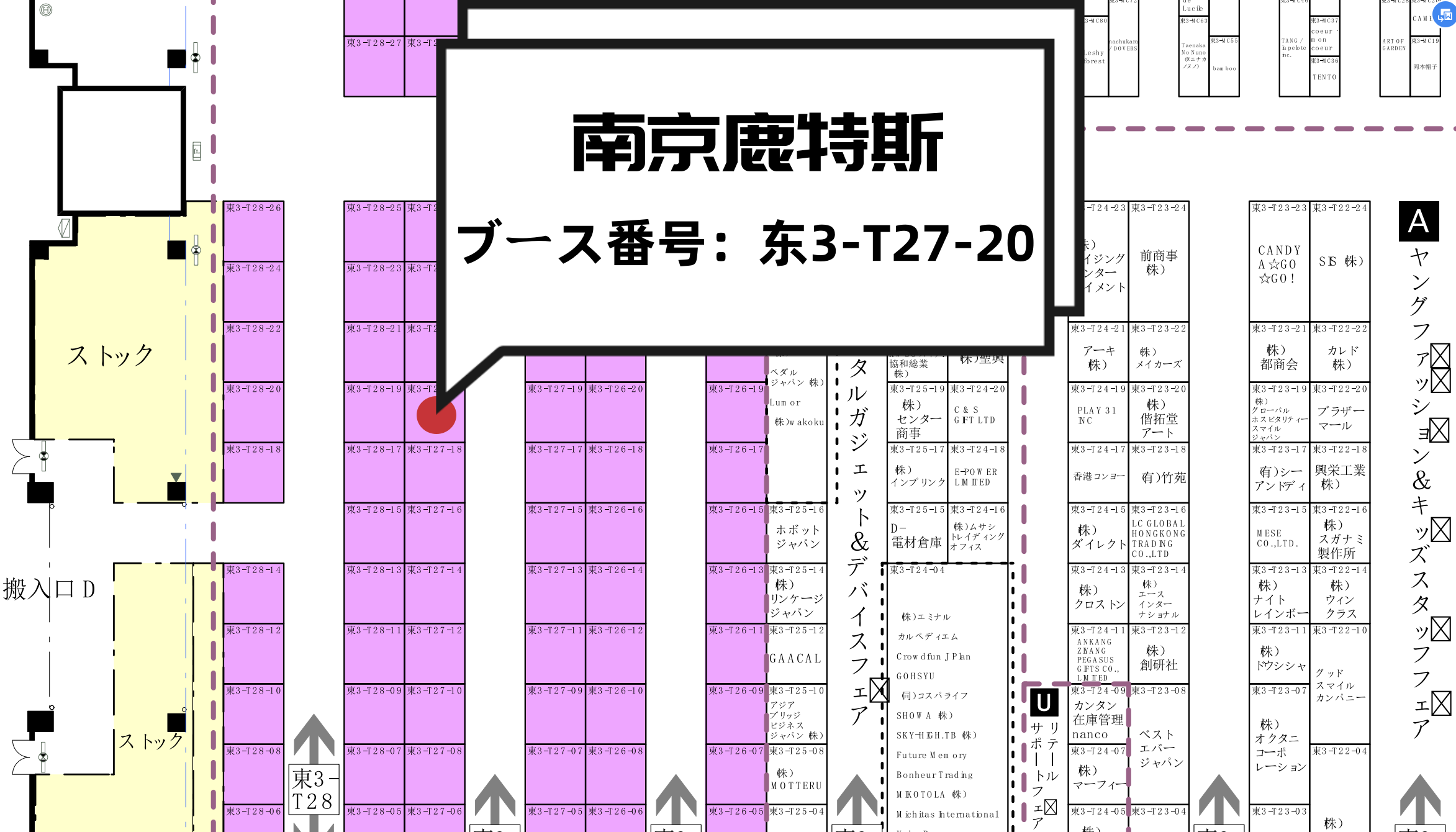 新型コロナウイルスの影響で、私たちは3年以上日本へ展覧会に行ったり、お客さんを訪問したりしていません。
今年は、2023年9月6日から8日まで東京で開催される東京インターナショナル・ギフト・ショー秋の生活×デザイン2023に参加し、旧友や取引先を訪問します。新旧のお客様や友人をブースに歓迎します。
あっという間に、日本に行って展覧会に参加して10年以上になる。10年以上の間、お客様や友人一人一人の助けと指導の下で、私たちは少しずつ成長して、徐々に各種のマスク製品を開発し、生産してきました:使い捨て平面マスク、使い捨てKF 94マスク(魚形マスク)、使い捨てKN 95マスク、使い捨て3 Dと5 Dマスク、冷感生地マスク、熱感生地マスク、美顔マスクなど各種のデザインのマスク。当社の工場もBFE 99%、PFE%、VFE 99%、SGS EN 14683 Type II&Type IIR、Nelson ASTM 2100 Level 1、Level 2&Level 3、使い捨て医療用マスク(非滅菌)、医療用外科マスクなどの証明書を取得しています。
私たちは信じています:才能を大切にして持って、払ってこそ報われて、堅持してこそ勝利することができる。
未来の日には、「誠実で実務的で、恩を知り恩返しをする。」、「精進し、たゆまず努力する。」と「積極的で、まじめで、投入して、責任を負う。」を受け継ぎ続け、初心を保ち、努力して前進する。
96th

TOKYO INTERNATIONAL GIFT SHOW AUTUMN LIFE×DESIGN 2023
Nanjing Lut

u

s International Trad

ing

Co., Ltd
Booth number: 东3-T27-20
Time: September 6-8, 2023
Due to the Covid-19, we have not been to Japan for more than three years to attend exhibitions or visit regular clients.
This year, we will participate in the 96
th
TOKYO INTERNATIONAL GIFT SHOW AUTUMN LIFE×DESIGN 2023
held in Tokyo, Japan from September 6 to 8, 2023, and visit old friends and customers. Welcome new and old customers and friends to visit our exhibition booth.
Time flies, it has been more than ten years since we participated in exhibitions in Japan. During the past over ten years, with the help and guidance of every customer and friend, we have grown step by step, and gradually developed and produced various types of mask products: disposable flat masks, disposable KF94 masks (Fish Shaped masks), disposable KN95 masks, disposable 3D and 5D masks, cool fabric masks, heat fabric masks, beauty masks, and other types of masks. Our factory has also obtained BFE99%, PFE%, VFE99%, SGS EN14683 Type II&Type IIR, Nelson ASTM2100 Level 1, Level 2&Level 3, disposable medical masks (non sterile), medical Surgical mask and other certificates.
In the future, we will continue to uphold the principles of "integrity and pragmatism, repay kindness with gratitude", "striving for excellence and perseverance", and "being proactive, serious, dedicated, and responsible." We will maintain our original intention and strive to move forward.
96th 2023日本東京國際禮品家居用品消費博覽會
南京鹿特斯國際貿易有限公司
攤位號:东3-T27-20
時間:2023年9月6日-8日
因為新冠疫情的影响,我們已經有三年多沒有去日本參加展會和拜訪老客人了。
今年,我們將於2023年9月6日-8日參加在日本東京舉辦的2023東京國際禮品家居用品消費博覽會和拜訪老朋友老客人。歡迎新老客人和朋友們來我們的展會攤位看壹看。
轉眼間,去日本參加展會已經有十多個年了。十多年間,在每壹位客人和朋友的幫助與指導下,我們壹點壹點在成長,逐漸研發和生產了各種類別的口罩產品:壹次性平面口罩,壹次性KF94口罩(魚形口罩),壹次性KN95口罩,壹次性3D和5D口罩,涼感布料口罩,熱感布料口罩,美顏口罩等各種款式的口罩。我們的工廠也取得了BFE99%,PFE%,VFE99%, SGS EN14683 Type II & Type IIR, Nelson ASTM2100 Level 1, Level 2 & Level 3,壹次性醫用口罩(非滅菌),醫用外科口罩等證書。
我們相信:珍惜才能擁有,付出才有回報,堅持才有可能勝利。
在未來的日子裏,我們會繼續秉承:"誠信務實,知恩報恩。","精益求精,堅持不懈。"和"積極,認真,投入,負責。"保持初心,努力向前。
2023日本東京國際禮品家居用品消費博覽會主要展品類別
禮品類:
節慶禮品用品、婚慶用品、蠟燭、香熏、車載香水、清新劑、美容化妝用品、時尚鐘表、流行首飾、手工藝品、箱包和皮革製品、紀念品、商業贈品、消費電子產品(手機、移動硬盤、MP3等)、文具、文具套裝、時尙背包、紙質製品等。
消費品類:
餐具、廚具、廚房用品、廚用家電、衛浴電器、日用陶瓷、玻璃器皿、餐具、家居生活用品、小電子類用品、小家電類產品、一次性清潔用品、清潔用品、日用化學品等。
家居用品:
玻璃製品、陶瓷製品、家具、室內裝飾品、室內燈具、臥室紡織品、餐廚紡織品、浴室紡織品、室內裝飾面料、窗簾布藝、桌上用品、餐桌裝飾品、金屬製品、塑料製品、搪瓷器皿、促銷、贈品用品類、環保包袋類、紀念品、商業贈品、時裝、鞋、帽、服裝配飾、兒童用品、文具、體育用品、首飾、玩具、動畫/漫畫等。
---